design - part 1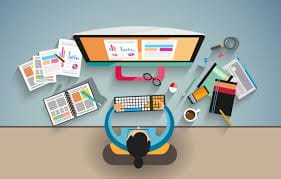 This is part one. The requirements are;
Design and development of products and services
8.3.1 General. The company has established, implemented and maintains a design and development process that is appropriate to ensure the subsequent provision of products and services.
8.3.2 Design and development planning. In determining the stages and controls for design and development the company considers the: a) nature, duration and complexity of the design and development activities; b) required process stages, including applicable design and development reviews; c) required design and development verification and validation activities; d) responsibilities and authorities involved in the design and development process; e) internal and external resource needs for the design and development of products and services; f) need to control interfaces between persons involved in the design and development process; g) need for involvement of customers and users in the design and development process; h) requirements for subsequent provision of products and services; i) level of control expected for the design and development process by customers and other relevant interested parties; j) documented information needed to demonstrate that design and development compliance have been met.
8.3.3 Design and development inputs. The company determines the requirements essential for the specific types of products and services and to be designed and developed. The company considers: a) functional and performance requirements; b) information derived from previous similar design and development activities; c) statutory and regulatory requirements; d) standards or codes of practice that [company] has committed to implement; e) potential consequences of failure due to the nature of the products and services. Input is adequate for design and development purposes, complete and unambiguous. Conflicting design and development inputs are resolved. [company] retains documented information of design and development inputs.
Back to my original comments in the intro. Know your context. Know your products and services. Know you customers and if the words design and development have crept into the marketing spin, the contract or even the expectations then, you better get your head around the design clauses. There really isn't much to do with them other than to identify each component and compare them to the company activities. Don't build a process or a system that tries to encapsulate the 1 million what-ifs, focus on the core activities and have review points to decide on whether further detail or records are needed to meet the above requirements.
Remember to keep it simple and be realistic. Remember you get to decide if design and development is a core process, so have a good hard look.
The good news is that this clause can be deemed Not Applicable. And if you deem it, claim it, then you need to justify it. A simple justification is a statement along the lines of…The company does not design and develop our product / service range. Then you record this in a format that is easily retrievable when asked. I keep such statements in the quality manual, a cross reference tables, management review minutes or business plans.