A present to you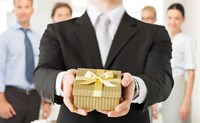 Here is present for you. Below is quality.com.au's new and improved quality policy based on 2015. Cut and paste as much of it or as little of it as you want.
Quality Policy
quality.com.au is committed to providing exceptional products and service in management system design, development, implementation and support.
Our quality objectives are satisfied stakeholders and continual improvement of the quality management system. These objectives are established, maintained and achieved through our objectives framework and risk profile management.
Through our communication and training programs, all stakeholders, including any relevant interested parties have gained a sound understanding of this policy and our quality management system.
This policy is established, implemented and maintained by the leadership team who ensures it is appropriate to the purpose and context of quality.com.au in supporting our strategic directions and risk profile. It will be reviewed in [month] [year]
[name], [title], [date]